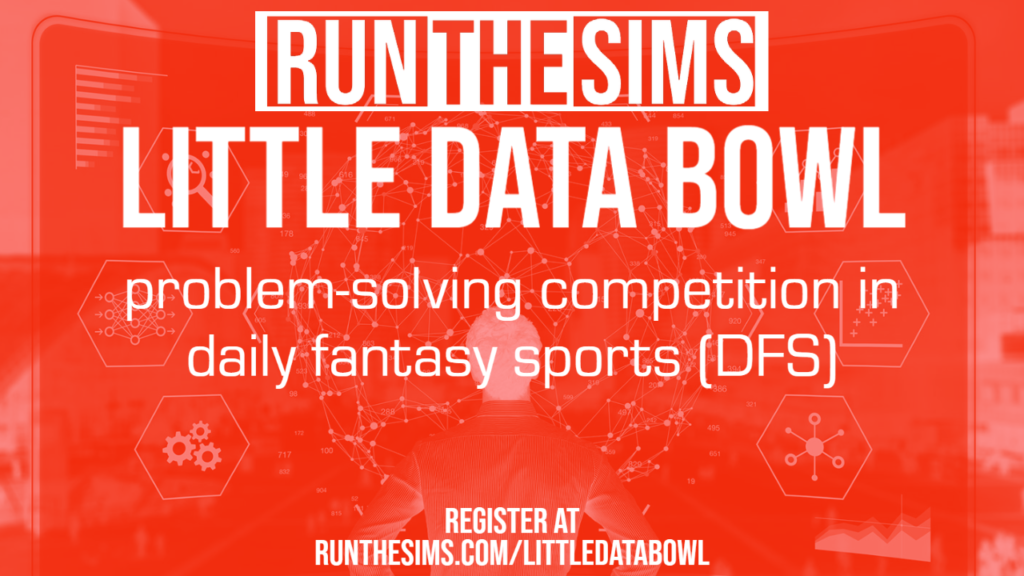 $1,000 Top Prize Payable as Scholarship or Cash for Winning Entry!
Run The Sims is proud to announce the first ever Little Data Bowl – a hat tip to the NFL's innovative big data competition. As a company focused on pushing the envelope in the daily fantasy sports industry, RTS is looking for competitive students and professionals to solve problems around DFS with mathematical solutions. Participants in this contest will work as individuals or teams. Winning teams will split the top prize evenly.
WHEN? Registration Deadline for the first event is Friday, June 17, 2022. Participants will receive data and assignment by Monday, June 20, 2022. Submissions are due by Tuesday, July 5, 2022.
WHAT? All participants will be issued the same problem and dataset. They will have one week to study the data and submit a solution per the instructions. The problem will be one that represents a known issue with a lack of consensus in the daily fantasy sports industry.
CAN YOU GIVE AN EXAMPLE? An example problem might be to design a model that most accurately describes or predicts the importance of cornerback matchups for wide receiver scoring in NFL DFS.
HOW WILL A WINNER BE SELECTED? The staff at Run The Sims will review all submitted materials and select a winner based on which person/group made the most convincing case for how their solution addresses the core problem. Effective submissions must not only solve the problem but also effectively communicate the logic of the solution and how it may be applied.
PRIZES? The winning individual or team will receive a $1,000 prize (split among team members) along with a Run The Sims swag package. Second and third place participants will also receive a RTS swag package!
HAVE QUESTIONS? I'm sure you do! Reach out to justin@runthesims.com with all of your burning questions.