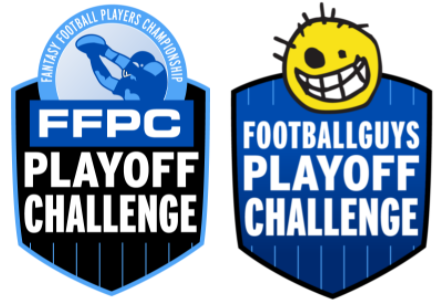 By Justin Freeman
The FFPC Playoff Challenge has long been one of my favorite annual fantasy contests. The strategic elements of projections, simulations, game theory, and good ol' fashioned player takes can send you up the leaderboard for a first place prize worth up to $500,000. Here is the quick and dirty on the format.
The Rules
First, you will field a 12-player roster with no more than 1 player coming from any NFL playoff team. You'll earn fantasy points for each player in your lineup throughout the playoffs and lineups lock at 4:35 PM ET on Saturday when the playoffs officially kickoff. There are of course 14 teams in the playoffs this season, so your 12-player roster will naturally not include a player from 2 teams. The scoring is a full PPR with a 1.5 PPR for tight ends (TE premium). You'll need 1 QB, 2 RBs, 2 WRs, 1 TE, 4 FLEX, 1 DST, and 1 K. On top of that, points are worth double in the Super Bowl. Once lineups lock, your team is solidified for the entire playoffs.
The Contests
There are two contests with the same format hosted on FFPC. First, the FFPC Playoff Challenge is the $200 buy-in $1.3 million prize pool tournament with $500k up top in prizes with 7,250 entrants. Second, the Footballguys Playoff Challenge has a modest $35 buy-in with nearly $500k in total prizes, featuring $100k up top for whoever emerges as the top of the 15,000 entrants. So there is a price point for any appetite here.
The Strategy
Let's think about the most important basic concepts in this format. First of all, these two contests offer a traditional tournament-style payout. A boatload goes to first place, and then the returns quickly dry up. In the FFPC Playoff Challenge, first place is worth $500k while sixth place is worth $10k. While I certainly wouldn't say no to $10k, that is a 50x increase if we can climb those last few places on the leaderboard. This incentivizes some outside-the-box thinking.
But to think outside the box, we must first understand basic strategy. The game is about advancing as many players as possible, at the highest scoring positions, for as long as possible. Imagine it's Super Bowl week and the Packers are playing the Chiefs. The player you selected from the Packers was Mason Crosby (the kicker) and the player you selected from the Chiefs was the Kansas City DST. You are drawing dead for first place because the teams who featured Patrick Mahomes and Davante Adams will be scoring double the points on much higher projected scores. So how do we build for longevity?
Fading Two Teams
Perhaps most immediately noticeable, you'll have to select ZERO players from exactly TWO teams. With 14 teams in the playoffs and 12 players in our rosters, who do we want to ignore from our lineups? Well, obviously we want to fade teams that we think will be one-and-done. Think about your surest bets to fall flat in their first game. Also, keep in mind that teams with a bye (particularly the Titans) could also go one-and-done!
Taking a look at the odds from the DraftKings Sportsbook, the Steelers look like the biggest lock to go one-and-done with only a 17.08% chance of advancing to the second round. They would be a great team to target as part of a full fade. The least likely teams to advance (in order) are: Steelers, Eagles, Raiders, Patriots, Cardinals, and 49ers.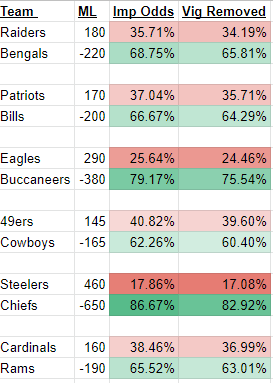 Selecting DST and Kicker
Similar to the full fade, we want to assign our DST and kicker positions to two more teams that we think are likely to go one-and-done? Why? Because it is *typically* quite unlikely that DST or K outscores the best position players for each team in a single game. DST and K are throwaway positions. So we typically want to revisit the same list of teams unlikely to advance to choose our DST and K. We also want to do a good job selecting these. Keep in mind that FFPC kicker scoring uses fractional points (which I think is pretty dang cool).
Analyzing the Matrix
By this point in our process, we have figured out what we are doing with 4 of the 14 playoff teams. We have attempted to identify 4 first-game losers and made them our kicker, defense, and 2 omitted options. We now get to assign the remaining 10 teams to the traditional QB/RB/WR/TE/FLEX positions. From there, we have to separate what we have to game out both playoff results and fantasy points.

Here is the matrix that I utilize which incorporates the FiveThirtyEight projected odds that each team makes it to the various rounds. The "Proj Gms" column adds up the projected games played for each team including double points for a Super Bowl appearance. Generally speaking, you will notice that the Chiefs lead the way in projected games. While they only project to go to the Super Bowl 7% more often than the Titans, the Chiefs have the "luxury" of playing another game to get there while the Titans get the bye. This could make a player like Patrick Mahomes even more tantalizing than usual as we really want to land a QB and a premiere FLEX player in the Super Bowl. The players highlighted in red here are players that I do not consider viable in this format.
Analyzing the Tight Ends
With TE premium scoring, this position *can* become a bit of a wild card, particularly for players with enviable target shares. This reduces the appeal of TD-or-bust tight ends like Hunter Henry and increases the appeal of guys who could lead their team in targets like Darren Waller. We also have to understand the value of these tight ends relative to their own teammates. Travis Kelce, for example is a great play in a TE premium, but when selecting Kelce means also fading Patrick Mahomes and Tyreek Hill, it makes Kelce quite a bit less attractive.
Dallas Goedert, on the other hand, may be the best position player on his Eagles roster straight up. However, the Eagles are the second-least likely team to advance out of Wild Card Weekend, so perhaps we don't want any Eagles at all.
We may also want to consider the idea of playing multiple tight ends. After all, we *must* play at least one, but we *may* play up to 5! I wouldn't recommend that, but just remember your constraints here.
Going Off the Board
While the matrix I've listed above contains the premium players at each position, it's also worth considering that especially for a one-and-done team, a big game by a less-than-obvious player could provide a huge advantage. Brandon Aiyuk comes to mind for the 49ers. Imagine the 49ers lose to the Cowboys on Wild Card Weekend but Aiyuk posts a two-touchdown game. He outscores every teammate by 10+ points with a 9/110/2 line for 32 fantasy points. In that case, Aiyuk becomes almost essential to a top-10 finish. Over a larger sample, the better players have better statistical odds of being their team's leader. So, take a look at the likely one-and-dones for good spots to go off the board.
AFC #1 – Titans (BYE)
The Titans should get Derrick Henry back as they await the lowest seed remaining in the Divisional round, most likely the Bengals. The Titans (in large part due to their bye) have the third best odds of any team to make the Super Bowl per FiveThirtyEight at 31%. While we like Super Bowl QBs, Ryan Tannehill is not a viable option for us. Derrick Henry and A.J. Brown are really the only two I'm highly considering. That is unless I think they lose in round one where I could consider a full fade or playing Randy Bullock at kicker (likely against the Bengals).
Optimal: Derrick Henry
Leverage: A.J. Brown
Galaxy Brain: Fade/K/DST
AFC #2 – Chiefs (vs Steelers)
The Chiefs have a banged up running back room making it nearly impossible or impractical to choose either Clyde Edwards-Helaire or Darrel Williams. With the Chiefs implied as 83% favorites over the Steelers, the K and DST are off the board as well. This leaves us with Patrick Mahomes, Travis Kelce, and Tyreek Hill. Tyreek Hill has disappeared in recent weeks, having gone three straight weeks without topping 40 receiving yards. Travis Kelce on the other hand has scored four touchdowns over these last three weeks. There could be more than meets the eye with Tyreek Hill's foot injury or perhaps opposing defenses have been more intentional about shutting him down. Overall, I still lean Hill over Kelce for a team that I think makes a deep playoff run. Mahomes, however, may be the most popular QB in the tournament.
Optimal: Patrick Mahomes
Leverage: Tyreek Hill
Galaxy Brain: Travis Kelce
AFC #3 – Bills (vs Patriots)
The Bills are -200 favorites against the Patriots but have just a 16% chance to make the Super Bowl. Given Josh Allen's unique upside at the position, it is possible for him to be the optimal QB even without a Super Bowl appearance. However, we really prefer Allen to make a deep run if he is selected. The safest choice here is Stefon Diggs who is the clear non-QB favorite to earn a FLEX-worthy assignment. Devin Singletary has emerged as a feature back in recent weeks, but I imagine Josh Allen will be much more likely to take the game into his own hands when the season is on the line.
Optimal: Stefon Diggs
Leverage: Josh Allen, Devin Singletary
Galaxy Brain: Dawson Knox
AFC #4 – Bengals (vs Raiders)
Joe Burrow has been on fire recently and should be in line for a strong performance as the Bengals are actually slightly more likely to advance to the next round that the Bills. The Bengals have no shortage of options as Joe Mixon, Ja'Marr Chase, and Tee Higgins join Burrow in consideration. There are concerns however that the Bengals don't advance beyond the Divisonal Round and have just an 8% chance of qualifying for the Super Bowl.
Optimal: Ja'Marr Chase
Leverage: Joe Mixon, Tee Higgins
Galaxy Brain: Joe Burrow
AFC #5 – Raiders (@ Bengals)
Can Derek Carr and company build off their dramatic overtime win over the Chargers? Vegas doesn't seem to think so as the DK Sportsbook gives them just a 34% chance to knock off the Bengals on the road. The Raiders look like a great team to fade while Josh Jacobs, Hunter Renfrow, and Darren Waller look like the best flex options.
Optimal: Hunter Renfrow, Fade/K/DST
Leverage: Darren Waller
Galaxy Brain: Josh Jacobs
AFC #6 – Patriots (@ Bills)
How will rookie Mac Jones fair under the intense heat of the NFL playoffs? Can his Patriots survive into the Divisional Round? There isn't much to love in terms of reliable fantasy production from this Patriots team, especially given how banged up their backfield is. This makes the Pats' an ideal fade candidate.
Optimal: Fade/K/DST
Leverage: Damien Harris, Rhamondre Stevenson
Galaxy Brain: Hunter Henry
AFC #7 – Steelers (@ Chiefs)
Ben Roethlisberger's last game will likely come at Arrowhead Stadium as the Steelers are the biggest underdog of the weekend. While the most sure-fire dog may seem like the best fade opportunity of the tournament, the Steelers actually have extremely predictable fantasy production from their two key players – Najee Harris and Diontae Johnson making them extremely viable floor options. Chase Claypool fits the Brandon Aiyuk mold discussed earlier when talking about going off the board.
Optimal: Fade/K/DST
Leverage: Diontae Johnson
Galaxy Brain: Najee Harris
NFC #1 – Packers (BYE)
FiveThirtyEight gives the Packers a 50% chance of making the Super Bowl which means that we should very much consider Aaron Rodgers in our decisions. Of course, Davante Adams doesn't lag far behind if at all. Rodgers provides the better floor while Adams plus an AFC quarterback gives a higher ceiling.
Optimal: Davante Adams
Leverage: Aaron Rodgers
Galaxy Brain: Aaron Jones, AJ Dillon
NFC #2 – Buccaneers (vs. Eagles)
The Buccaneers are the 4th most likely team to make the Super Bowl per FiveThirtyEight, but look like a clear favorite to come out of the NFC if the Packers were to stumble. On top of that, there are injury concerns among Leonard Fournette and Ronald Jones that cloud the backfield. Meanwhile, Mike Evans and Rob Gronkowski should both feast with targets. Even in scenarios where the Buccaneers make the Super Bowl, I do not think Tom Brady is mandatory given how explosive Evans, Gronkowski, and Fournette can be. I think it worth taking a guess on Fournette's health and expecting a big playoff run from both he and Gronkowski. This may come across as Mike Evans slander but I think the longer the sample, the less likely he is to show value over Fournette and Gronk.
Optimal: Leonard Fournette, Rob Gronkowski
Leverage: Tom Brady
Galaxy Brain: Mike Evans
NFC #3 – Cowboys (vs. 49ers)
Dak Prescott and the Cowboys are the narrowest favorites of Wild Card Weekend, featuring just a 60.4% chance of defeating the visiting 49ers per DK Sportsbook. It's worth considering the likelihood of a Cowboys early exit, but it is also worth considering a deep run as the Cowboys still have a 13% chance of making the Super Bowl. It'll be hard for Prescott to qualify but not impossible. The Cowboys running backs have not been nearly as effective as their aerial attack, putting Ezekiel Elliott on the outside looking in (and Tony Pollard getting too little work with too much injury concern).
Optimal: CeeDee Lamb, Dalton Schultz
Leverage: Amari Cooper
Galaxy Brain: Dak Prescott, Fade/K/DST
NFC #4 – Rams (vs. Cardinals)
The Rams suffered a brutal loss against the 49ers in Week 18 and will look to course correct at home against the Cardinals as 63% favorites per DK Sportsbook. The Rams have an uphill climb to qualify for the Super Bowl and even if they did, it's difficult to consider Matthew Stafford over Cooper Kupp. While Cam Akers is back, Sony Michel should be the lead dog during this playoff run. Yet it's also worth noting that Darrell Henderson could return in the Divisional Round.
Optimal: Cooper Kupp
Leverage: Sony Michel
Galaxy Brain: Fade/K/DST
NFC #5 – Cardinals (@ Rams)
Kyler Murray and the Cardinals will attempt to knock off the Rams on the road with a team that has taken its lumps recently. With DeAndre Hopkins unlikely to return this season, Christian Kirk and Zach Ertz have emerged as the top two targets. The running backs have looked great as long as there has been just one of them. However, injuries to both Chase Edmonds and James Conner really cloud the situation. If either could have the backfield to themselves, they would be slam dunk picks. With only a 2% chance to make the Super Bowl per FiveThirtyEight, Kyler Murray is tough to jam in. As of today, practice reports are more favorable to Edmonds than Conner.
Optimal: Zach Ertz, Chase Edmonds
Leverage: Christian Kirk, James Conner, Fade/K/DST
Galaxy Brain: Kyler Murray
NFC #6 – 49ers (@ Cowboys)
The 49ers should put up a good fight on the road against Dallas given the strength of their running game. Elijah Mitchell, Deebo Samuel, and George Kittle look like the primo options here if not fading the 49ers outright. We discussed the upside of a Brandon Aiyuk play which then allows you to play pretty chalky across the board.
Optimal: Deebo Samuel, George Kittle
Leverage: Fade/K/DST
Galaxy Brain: Elijah Mitchell
NFC #7 – Eagles (@ Buccaneers)
The Eagles are the easiest team on the slate to full fade. As the second-worst team in terms of likelihood to advance, the Eagles do not consolidate fantasy points anywhere other than with Jalen Hurts who is off the board.
Optimal: Fade/K/DST
Leverage: Dallas Goedert
Galaxy Brain: Devonta Smith
Wrapping Up
As I mentioned, I love this format. It is a great exercise in opportunity cost, projections, and ranges of outcomes. It blends game theory with forecasting and sets up nicely to help thoughtful players be more likely to cash. It's been awesome working with you guys this season at Run The Sims and can't wait to run it back next year. GL!
Want to subscribe to Run The Sims? Join us here!